Honestly speaking, our trips have been quite impulsive.
Originally we wanted to travel from Montenegro to Belgrade through one Serbian city – Zlatibor, where is a popular ski destination, but since it's too early to snow while the price is still higher than average, we thought probably give it a miss.  Then hubby randomly suggested, we could actually travel via Sarajevo, which only adding one hour to the total travel time.  Sounds exotic, isn't it?  I never thought of travelling to Sarajevo due to it's position, the capital of Bosnia, the place has been torned by numerous war. But why not?
I was responsible to book the hotel, after some checking & browsing, I concluded there were quite a lot nice little boutique hotels in the city, nothing too special, around 40 – 60 euro per night, which is within our budget, however considering you need to add the parking fee on top of it, the cost would be 55 – 80 Euro per night.  Then I noticed this gorgeous hotel called "Pino natural hotel".  With star sign as Libra, I love beautiful things.  This hotel is well designed, both inside and outside.  From the photos you can see it's new – just started operation since early 2016.  The price is 70 euro per night, without breakfast.  Not in the city, about 10-15 drive up in the Olympia mountain.  After 24 hours, I found myself still imagining staying there. So I booked it.
The drive from Montenegro to Sarajevo was long and eventful… raining for 2/3 of the time… a lot of mountain road and tunnels! 🙂  bumpy indeed!
WE need good rest!
After 1 hour short stroll in the city and a quick fairly quick dinner, we started driving to the hotel.  The journey up the mountain was quite narrow and curvy, which was fun in a sense.  And yes, we saw stunning night view of the whole Sarajevo city!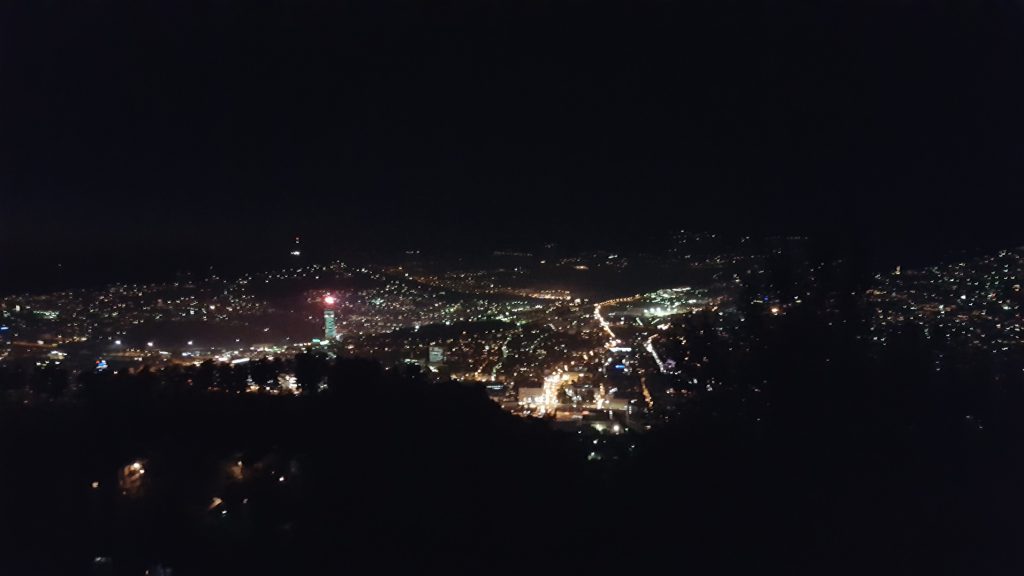 Beautiful – First impression of the hotel, it was as great as the pictures.  The check-in process was smooth and quick. The reception girl was very friendly.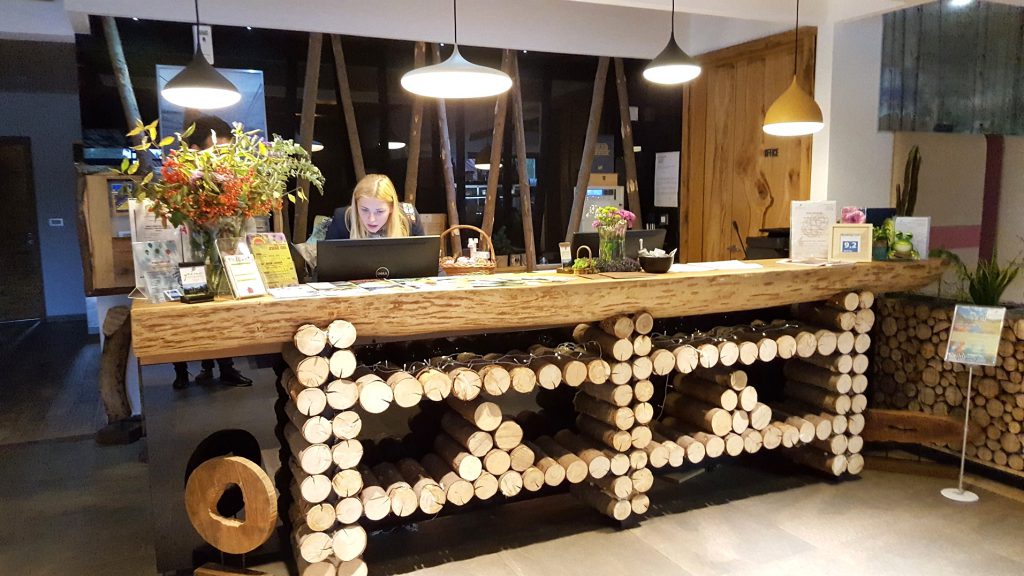 Room
The room was designed with the 'nature' in mind, a lot of wood and fur. When you lie on the bed, you see the forest wall paper on the ceiling… Great feeling.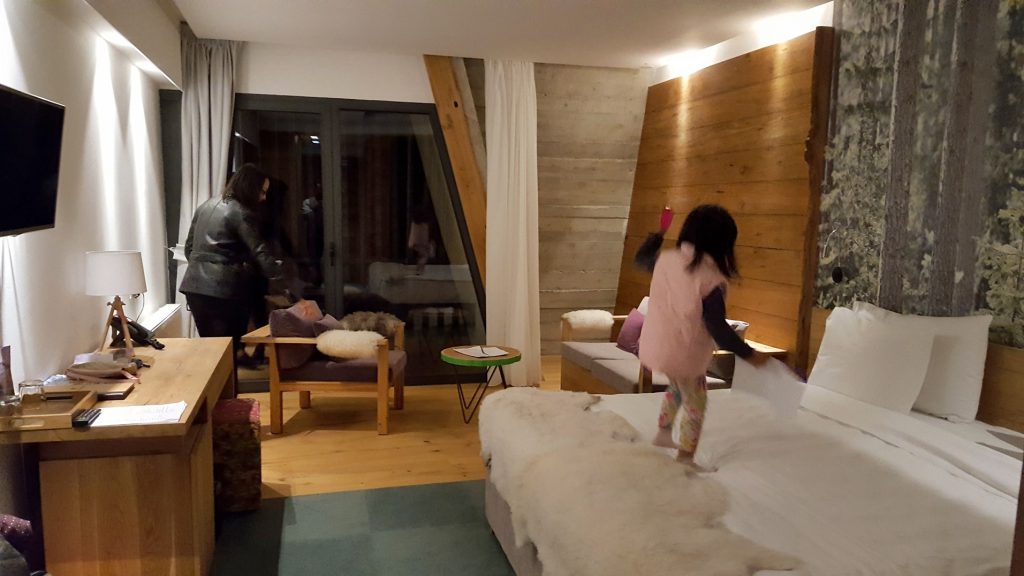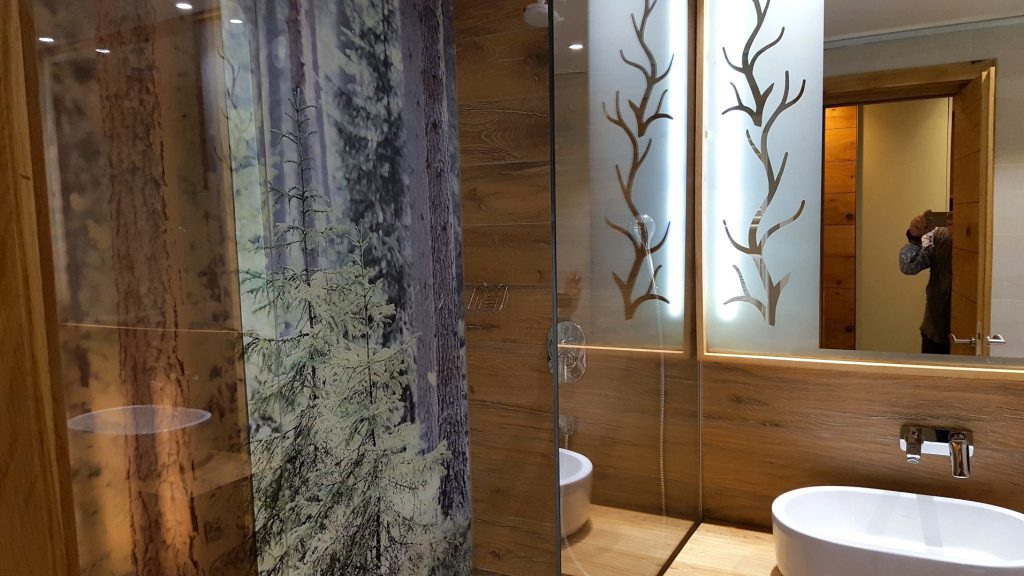 Treats for the kids.  Since it's one of the most important aspects I pay attention to these days, this Pino nature hotel wowed me, well, all of us.  They have a nice swimming pool, bigger one for adults, small one for kids.  Although the water was a bit cold for a cold Oct. night in the mountain, we still had heaps of fun for about 20 mins in the kids pool.   There was also a play room with tons of toys inside, our little one was so happy and busy there.  Pity we didn't have too much time to spend, but if we did, she could easily spent hours there.  These were not all… There was also an outdoor playground, very very nice.  Unfortunately the following morning was a bit raniy, we still managed to walk around it for 5 mins. LOL.  I believe many parents, if they are not staying in the hotel, but just come for an afternoon coffee or tea, can took their minds out of children for some time.  Great setting!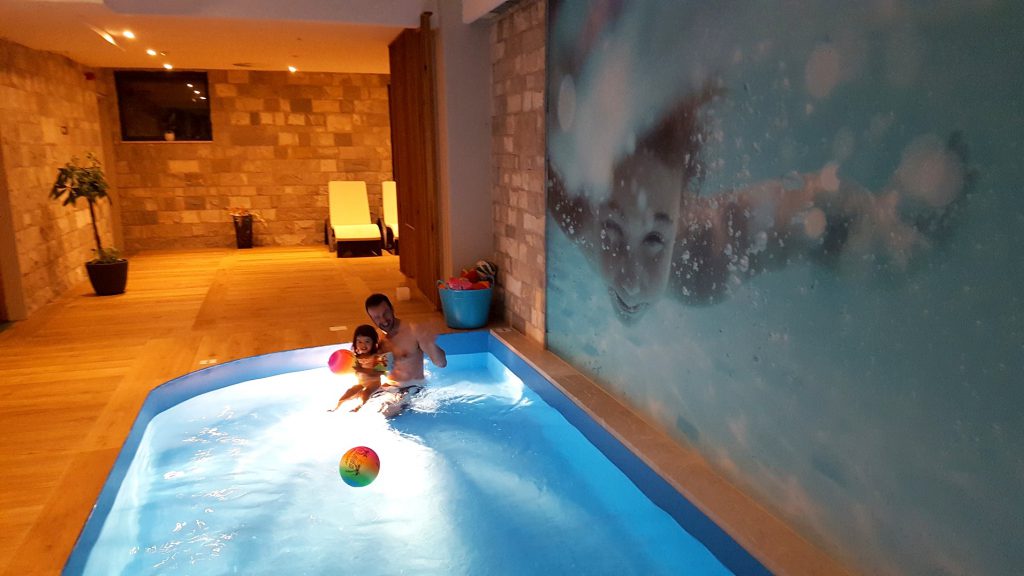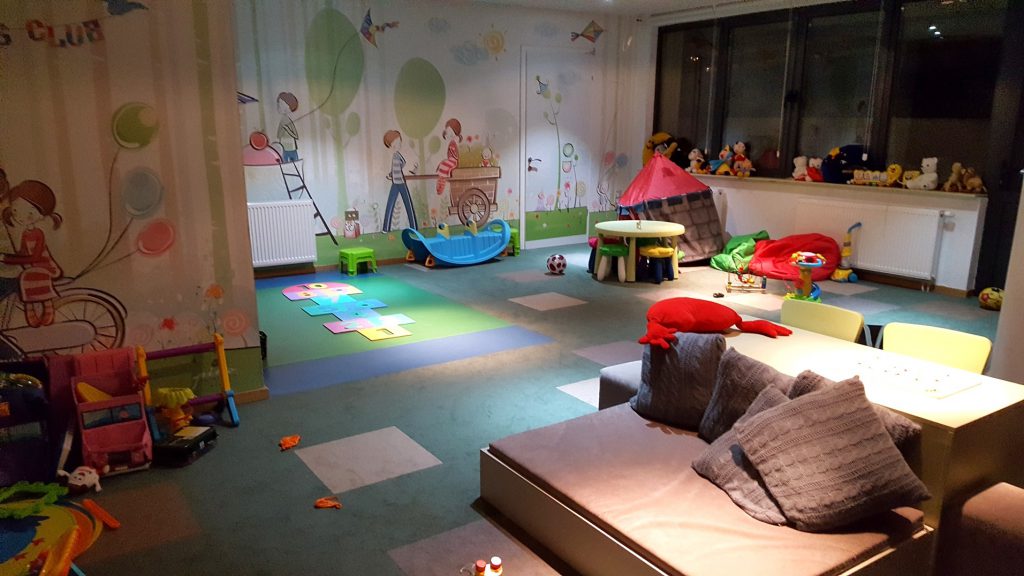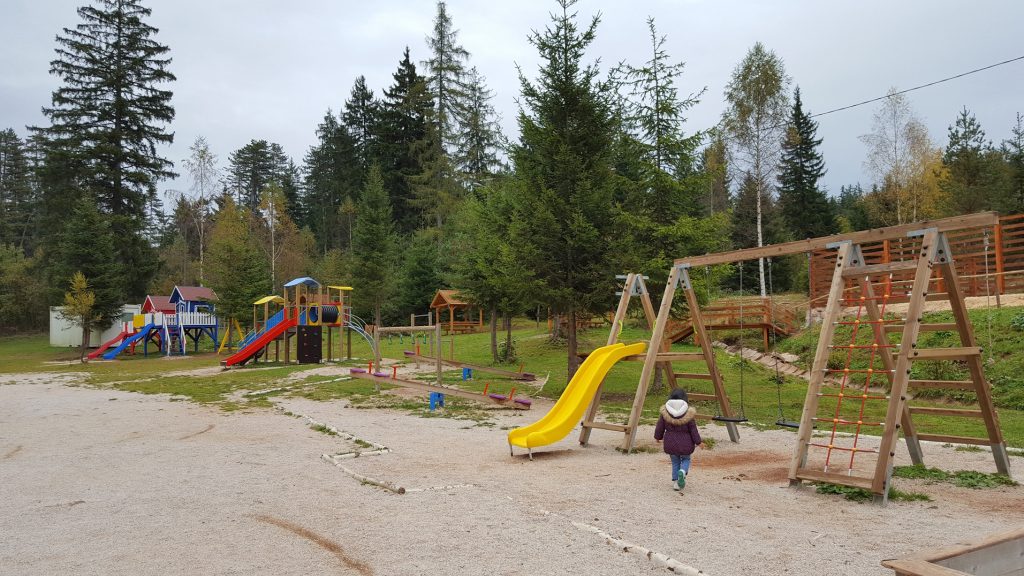 Breakfast.  I didn't take breakfast when I booked the room, but the next morning, I was a bit lazy to check out with empty tummy and go to the city again to look for food. We took the brekkie offer from hotel of 9 euro each.  Not extravagant, but  enough. The taste was good, the view was great. So, a tick from me.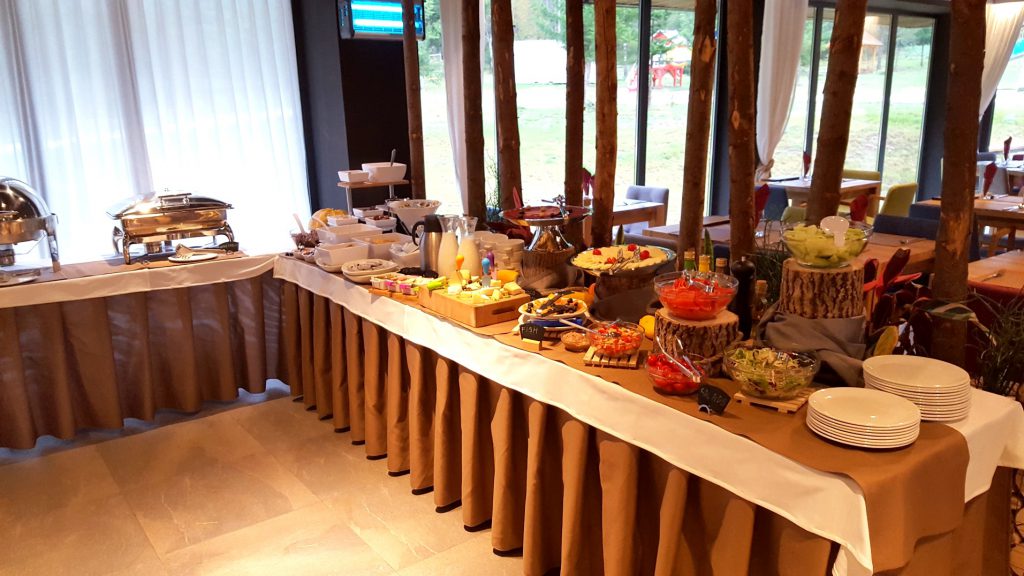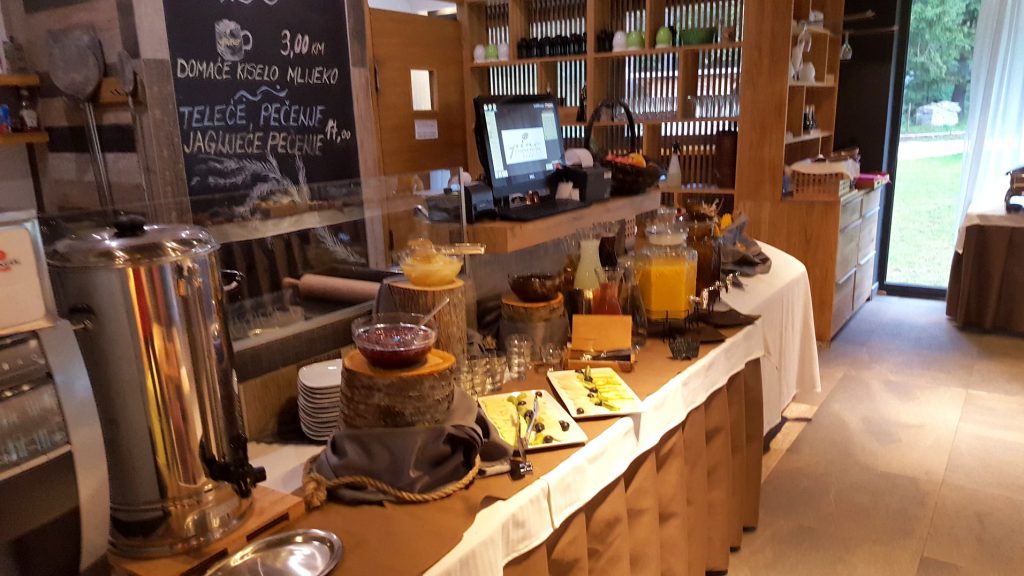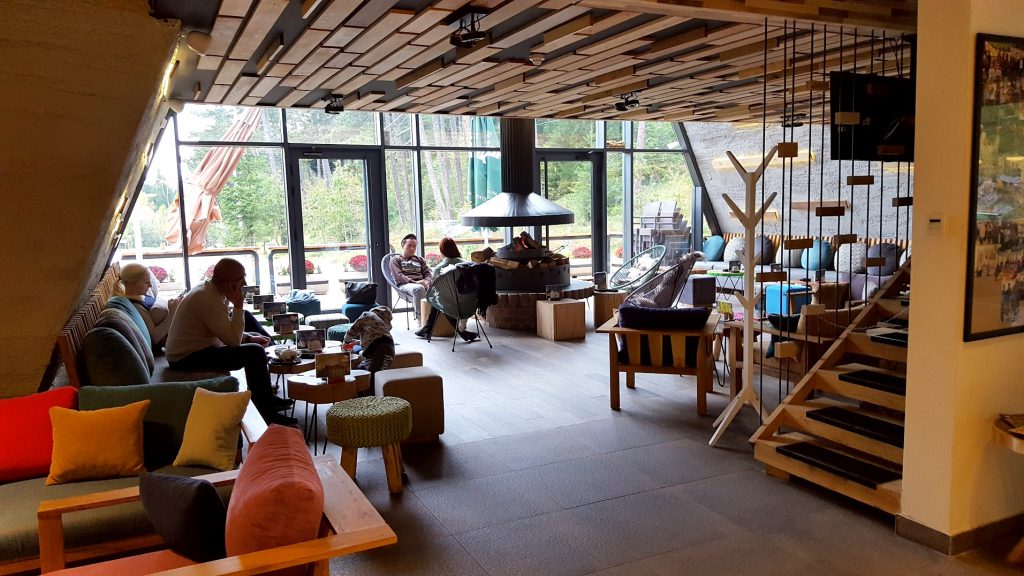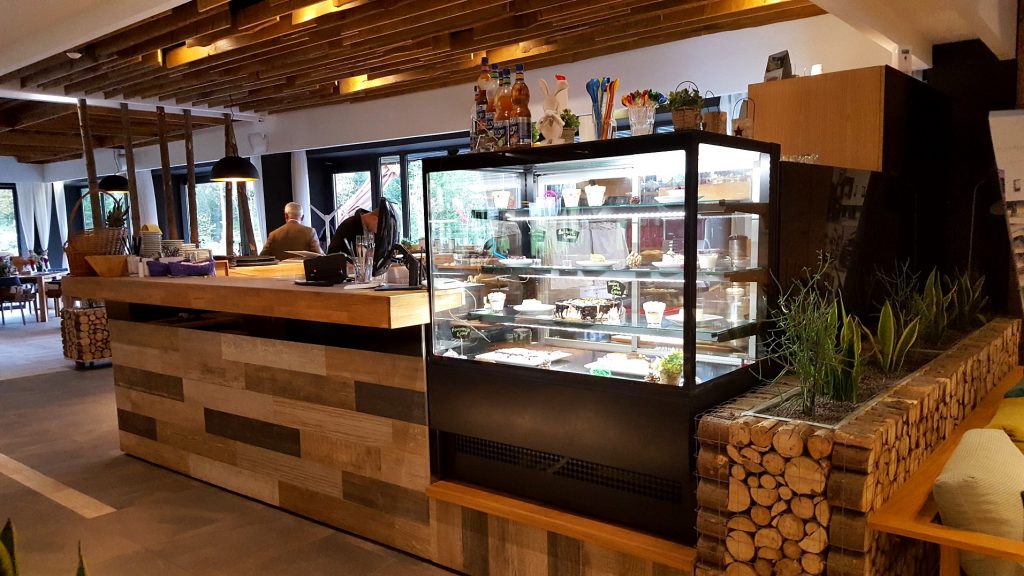 There were 2 street dogs wondering around the hotel from time to time, we were concerned about the safety of our daughter. But the staff of hotel said that they are not harmful. And we found out they didn't.

Overall Score:  ( 4.6  out of 5)
Evironment: 4.5
Location: 4.5
Cleanness: 4.6
Teddy Score (Child friendly): 4.8
Organization: 4.6
Value for money: 4.6
Food: 4.5
If we ever come back to Sarajevo again, I will stay in Pino Nature Hotel again without a blink.