Yes, we moved again. This time was during the worse COVID19 pandemic.
China was hit by the pandemic in Jan.2020, Serbia was confirmed with the 1st case on 6 March, 2020. at that time, the situation wasn't so bad, and the country even got some lockdown weekend. I was thinking they were quite serious comparing to neighboring countries.  However, after May, the confirmed cases every day increase to over a hundred, then a few hundreds, then over thousand…. the worst time reported was over 8000 per day… think about it, Serbia only got 7 million people.
Anyway, situation was tough.  Our daughters could not go to school or kindergarten. We spent a lot of time thinking how to avoid getting affected and got food safely from the shops, where some people still not wearing masks, or say correctly wearing masks.
AT the end, we decided to do best to get back to Taiwan, where we had some friends and the coronavirus situation had been well managed since day one.
Long story short.  The pandemic situation made everything harder.  You can't go to the embassy or visit places in person, couriers were widely used.  Serbia doesn't have Taiwan representative office, so all the correspondence needed to go through Hungry, luckily, the stuff there was so helpful. I really felt grateful for Mr. Sun's help along the way.
Finally, we got the Covid special visas to go to Taiwan.
A long process of preparation.  Again, leaving a lot of things behind, taking a few luggages with us.
Special thing when you travel during pandemic:
understand the individual requests by the destination country
enough equipment of prevention and hygiene on the trip (mask, gloves, googles, hand sanitizer…)
get the negative test result (*this I will write a separate post about when I got the info. from Taiwan CDC of no need to get test result for 2-year old, but Qatar Airways refused to let us board the plane; later we had to take another test, and bought separate tickets flew with another airline. Then Qatar Airways said we were 'no show' and refused to refund us the tickets. )
Book the place you would need to quarantine in your destination.
After all these ready, we were ready to go.
The 2nd batch of air tickets were with Turkish airline. It was a 14 hour flights, lay over 2 hours in Istanbul.  Overall a good flight, especially the 2nd lag with Eva air, not many people on the big plane, more comfortable.  Istanbul airport was actually very busy, even at 12 midnight, to my surprise. People still travel, of course for different necessary reasons.  I was quite happy to see that, to be honest, after so long closing myself in a small house.
After arrival at the Taoyuan airport, we were guided through different checking process, registration, getting the taxi, then headed to our rented place for quarantine.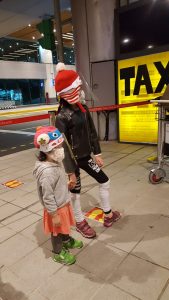 Although there were ups and downs during the whole journey, we arrived, in one piece! 🙂
Will write another post about quarantine.  See you soon.