Well, from Oct. 2016, we started this one every 30 days trip to a few different places from China as my tourist visa this time wasn't so ideal. As I was applying for long term visa & some other issues, we went at least 5 times to Hong Kong to process some documentation issues, however in the end in vain. Thinking about that, I regret to do that in the first place, if I knew the long term visa wouldn't be possible, we should have been to more places rather than just Hong Kong.
Anyway. Last time we took two days to Shanghai since my husband wanted to visit the auto-show there. Then we flew there directly to Busan, Korea. I've never been to Busan, only to Seoul and Jeju many years ago.
We arrived in Busan with Asiana airline, quite pleasant flight, not too full. Zoey got some sticker gift and she was happy.
Busan is a smaller city comparing to Seoul, airport is especially small, even smaller than Belgrade airport. We took the shuttle bus to …. It's 7000 Korean won per adult, children is free. Our hotel is not fancy, but functional, but boy, we had sea view. 😊 it's very close to the beach. We were starving, so the first thing to do wasn't playing on the beach, but to fill our stomach.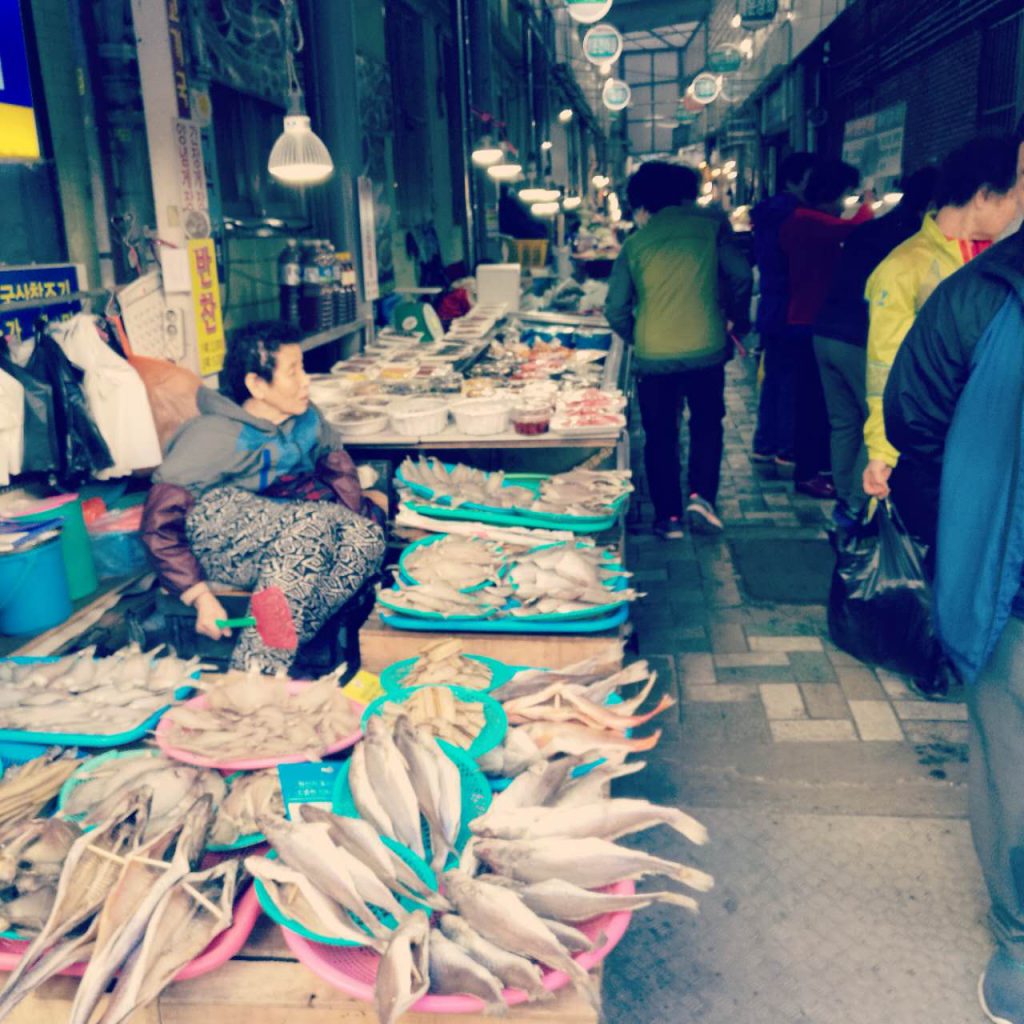 We were looking at some regular café, but since we knew that there is a seafood "eel street" just 50 meters behind our hotel, why not give it a go. After strolling the street twice, we finally sat in and ordered something from the menu. I could not say the price was low, but when the food was served, the taste was amazing. My husband wasn't too much a fan of seafood, especially squid, who almost finished the soup by himself. OMG. We were happy.

Then we bought the beach bucket for zoey, started 2 hours of playing on the beach. When the night fell, Zoey even had the guts to climb some sand dune, I was surprised that she wasn't acting like a princess then. Great for her! As a mum I really wanted to see her doing some adventurous with caution, that's a balance hard to achieve, but let's hope and try.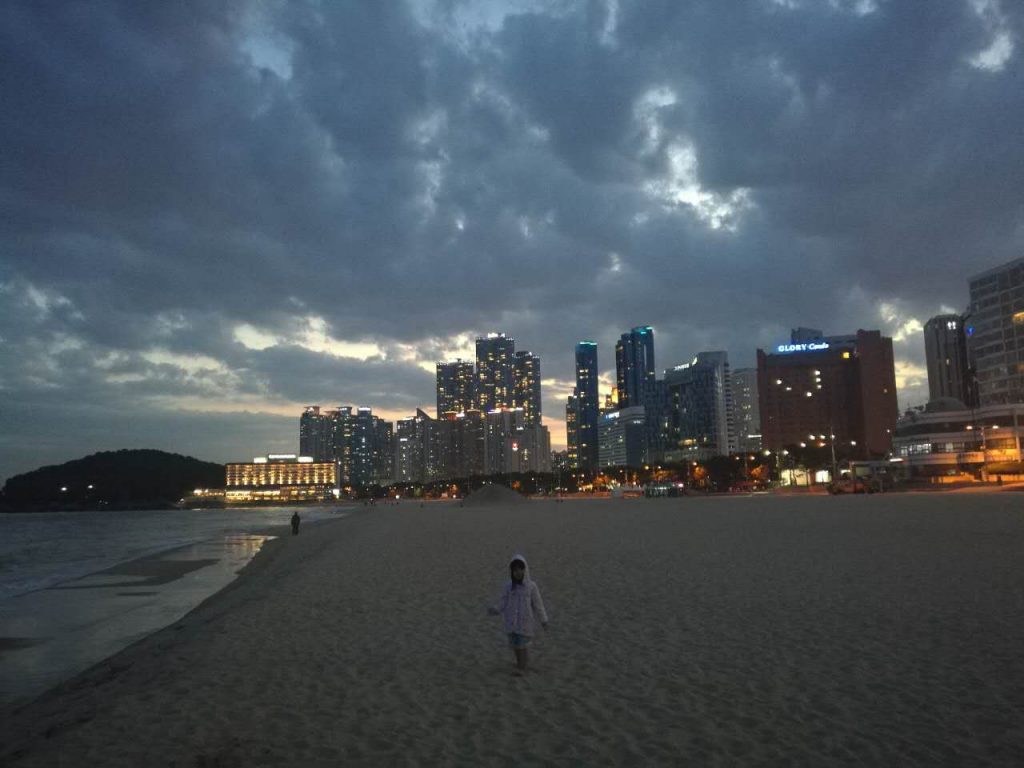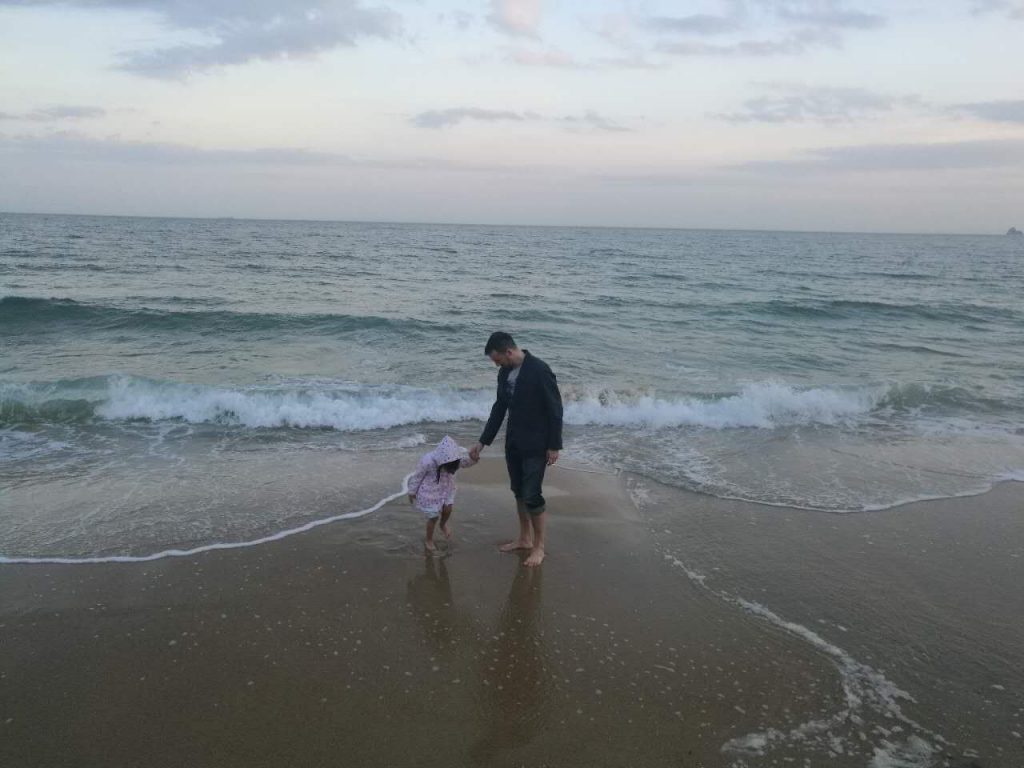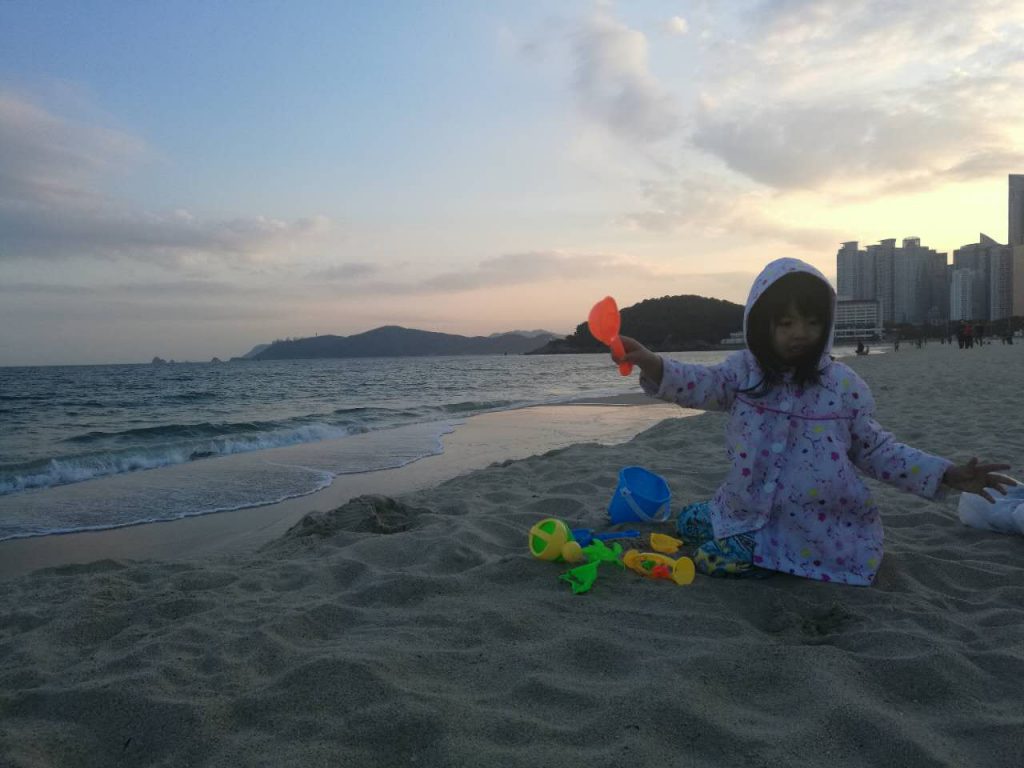 The next day, we were about to catch the flight in the morning. When I got up, suddenly, some feeling hit me, for some reason, I felt that we didn't put the idea that Busan is one hour ahead of Beijing. Then I checked, it is! So we were 2 hours before flight, and we were more than 1 hour taxi ride from airport. What to do? I already checked in online, but we have one big luggage need to put on the plane. Without too much confidence, we still got a taxi and rushed to the airport. Almost double the cost arriving at the airport is about 35 mins to depart. The service staffs said they could not do anything with the luggage which needed to be checked in. So we changed to the next flight, which was 5 hours later. What's the point of waiting here, rather spend some time on the beach?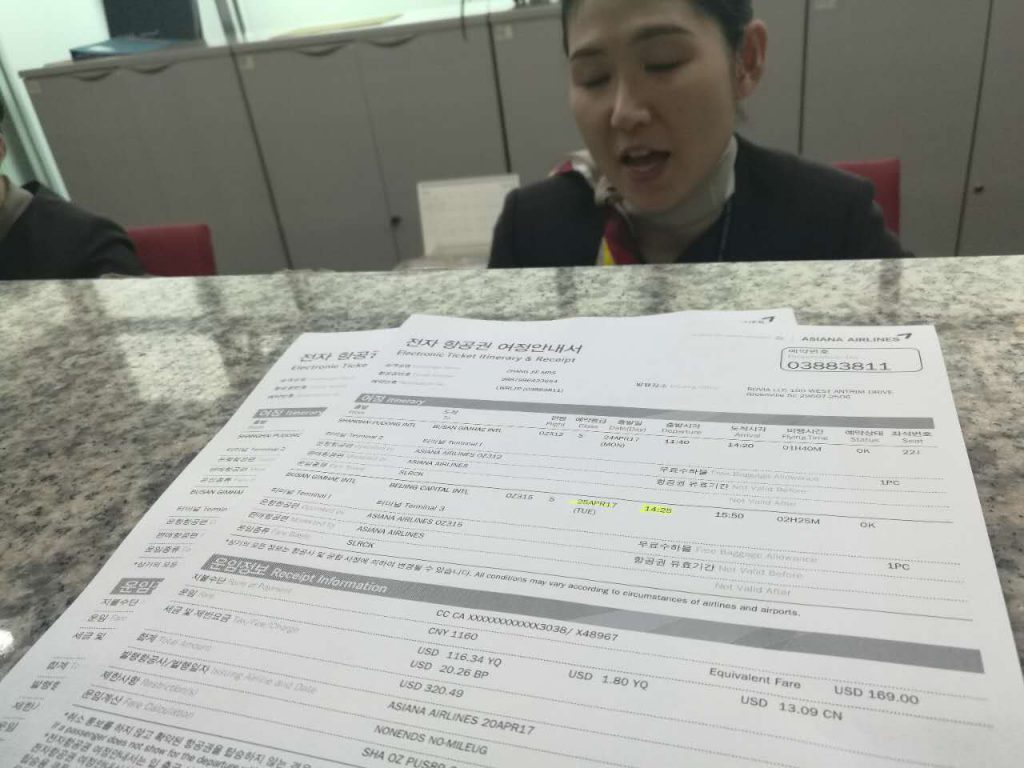 The little one found a piano there and pretended to play a bit. Not sure it was a display or decoration or what? But good idea.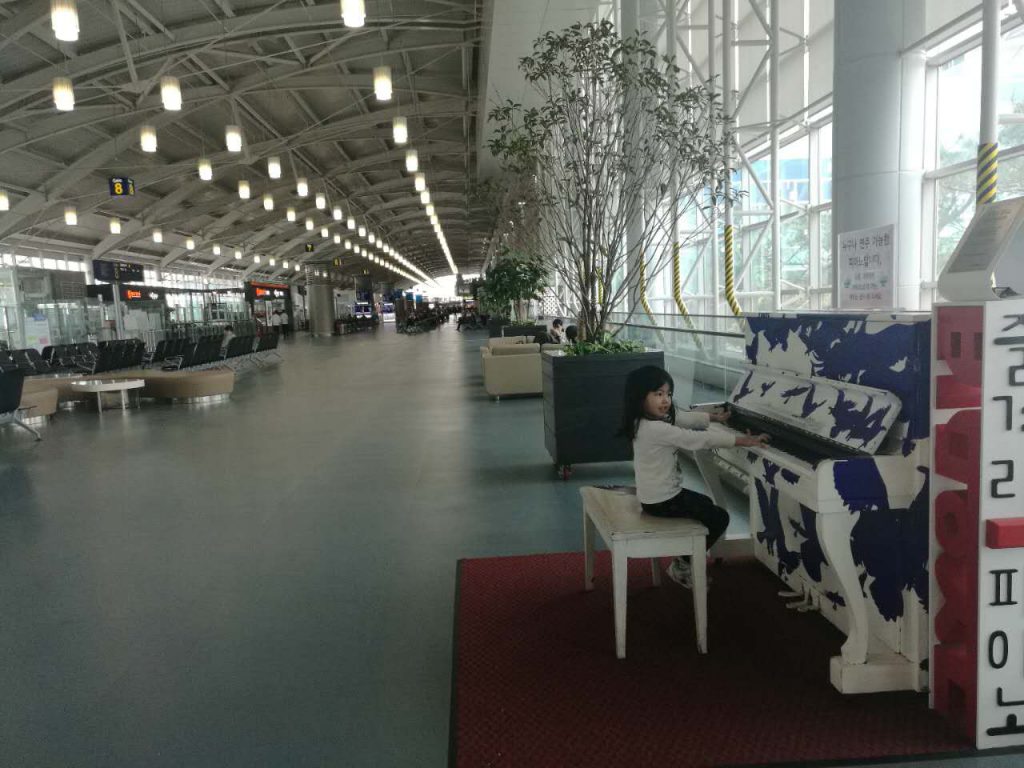 Anyway, overall we thought this short trip was nice, nice food, nice beach, nice environment. The last catching plane was eventful and a bit tiring, but, life is with all these unexpected things right? And for me, it taught me a lesson, never forget to check the local time ever again.