I was thinking Cacao was the best, as whenever I passed the shop, it was hugely packed. People everywhere… Finally we visited on a Sunday afternoon, of course our little daughter enjoyed it a lot. She only eats chocolate flavor, btw, very committed. 🙂
Both of me and hubby ordered two scoops, 1.6 euro per scoop, not cheap in Slovenia, maybe the most expensive shop.  But I could not agree that the taste is that great. Wasn't too impressed. The service wasn't that great either, as we waited till the very end to get the water.  I thought it was popular because of its location (by the river) and a lot of seating available, plus good branding.   They also have other locations as well.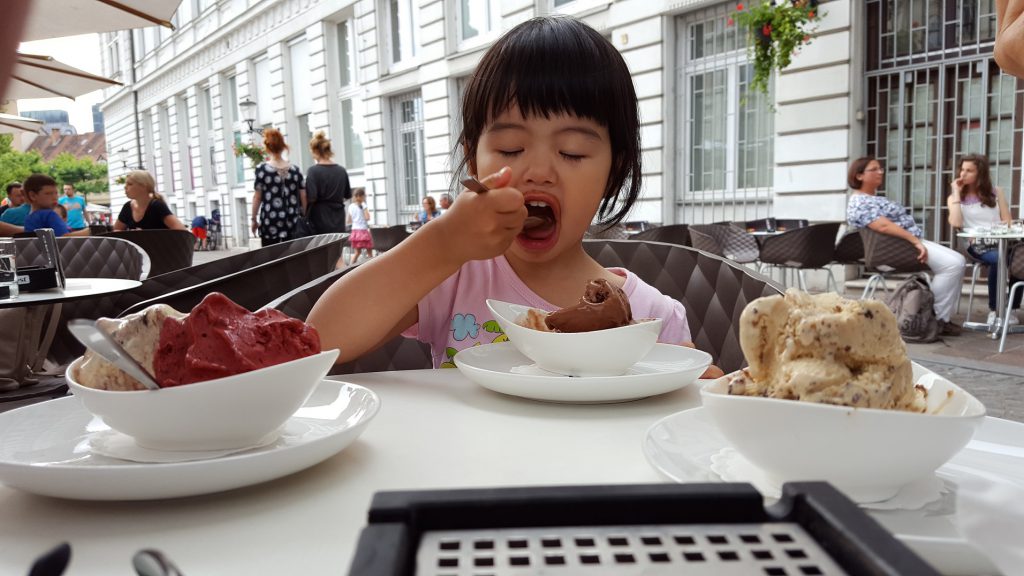 After a couple of weeks, one night my hubby went to the city to check out some potential unit to rent.  When he came back, he told me in a very animated and excited tone – I found the best ice cream in town.  He then spread the news to some people working in the same building with us.  They went there that very weekend and proved to me on Monday that it was Superb. They even went the second time on Sunday after Friday's first trial.
I got interested then. A few opinions point to the same conclusion, should be alright.  The following weekend we went there with Zoey.  Actually this place is right in the city, but we never really noticed.  Not big place, but well decorated. Elegant and modern styling of the shop, the pricing is reasonable, 1.5 euro per scoop (very decent size), if you want to mix two flavors into one scoop, it's 1.8 euro.  Perfect! After taking my first bite, I decided to come to here every week till the day I leave Ljubljana.  🙂  That is Vigo ice cream.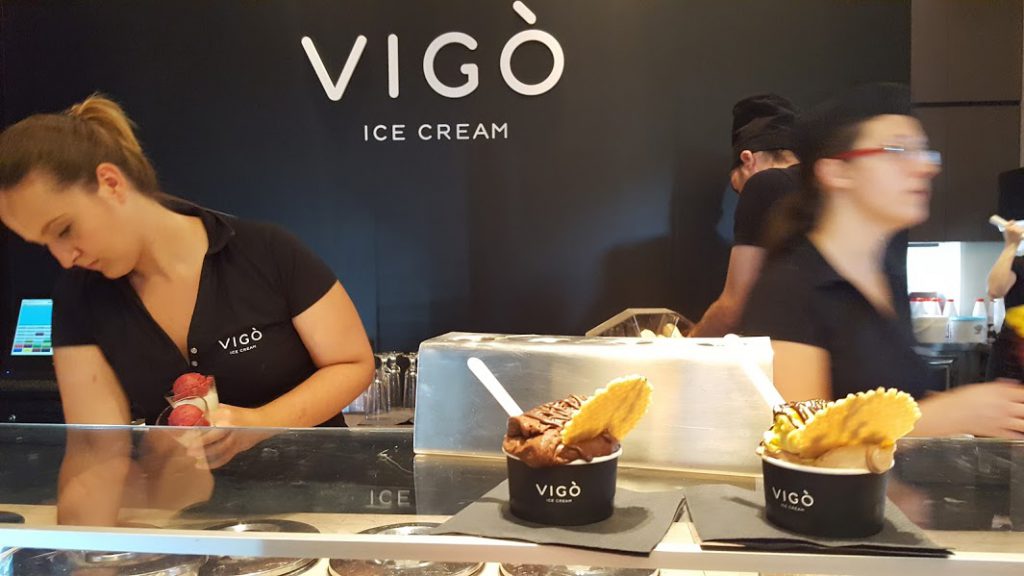 The little one made such a mess, but it's all worth it. Really great ice cream, if you happen to be here some time, please come for a visit! 
Yes we already visited a few times!  🙂