We heard about Graz from locals in Ljubljana.  It's the second largest city in Austria after Vienna. It's famous Hollywood actor Arnold Schwarzenegger's born place, where his birth house turned into a museum. As it's not far from us (via Maribor for about just over 2.5 hours drive in normal condition), so we decided to give it a go.  Of course one night stay in town was a must.
Hotel we stayed
I booked Mercure Graz city hotel. Not far from city, walk 5 mins to the river. Check-in very fast and efficient
Room was not big, but well equipped. Everything you need was there.  One thing just need to remember, next time need to book for king size bed, not double bed as the little one definitely sleeps with us… it is always me to be squeezed with her.
Underground parking was easy to use. 15 Euro per day was not cheap, but not bad for the location.

Walk, Walk, Walk
Old town, pretty. We walked a bit and sat down for a quick lunch, just watching trams passing by all the time.  "What a wonderful day of doing nothing!" it reminds me of this line – our little one's favorite line right now from Peppe Pig.  Later, we walked up hill to the 28 meters high Uhrturm, which is the landmark of Graz, interesting story about this clock tower is even locals find it hard to read the time since the hour hand is bigger than the minute hand. What? Oh yeh. 🙂  really nice view up there. So please do so if you are in Graz.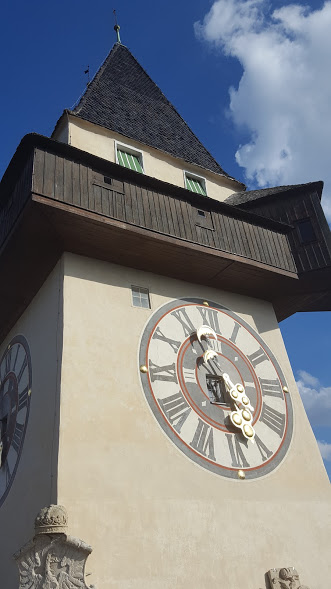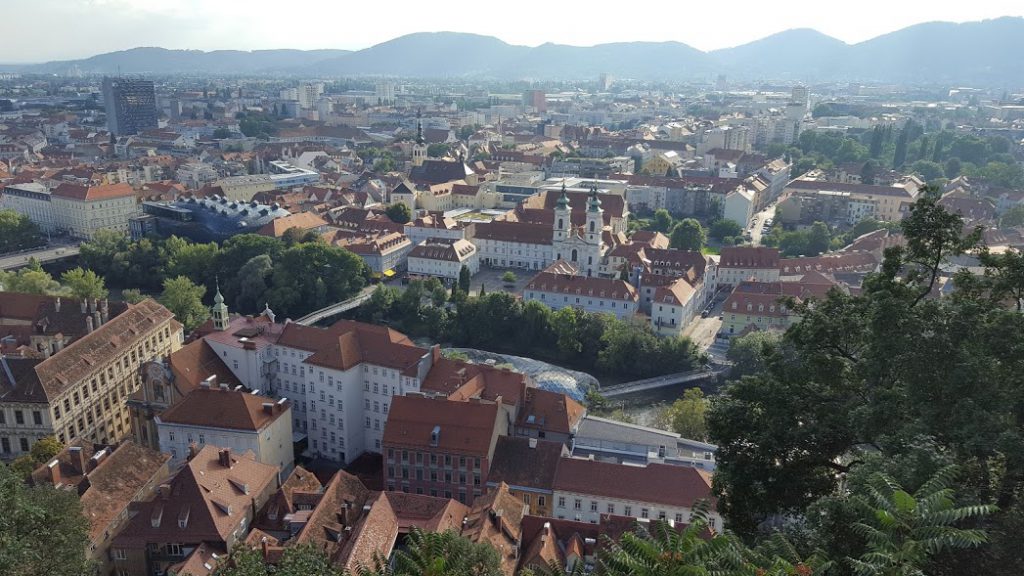 Food in Graz
We tried ice cream and bakery for sure as snacks. For dinner, I was so craving some good Asian food, although we are about to go to Beijing soon, still. Have been missing some great bites for quite some time.  I found this restaurant VINA through tripadvisor.  Got there around 8pm. Ful, luckily one couple was just leaving. The food in general was alright, for a foreign country with not many Asian people, I would give 4.5 out of 5.  Owners and staffs are really nice.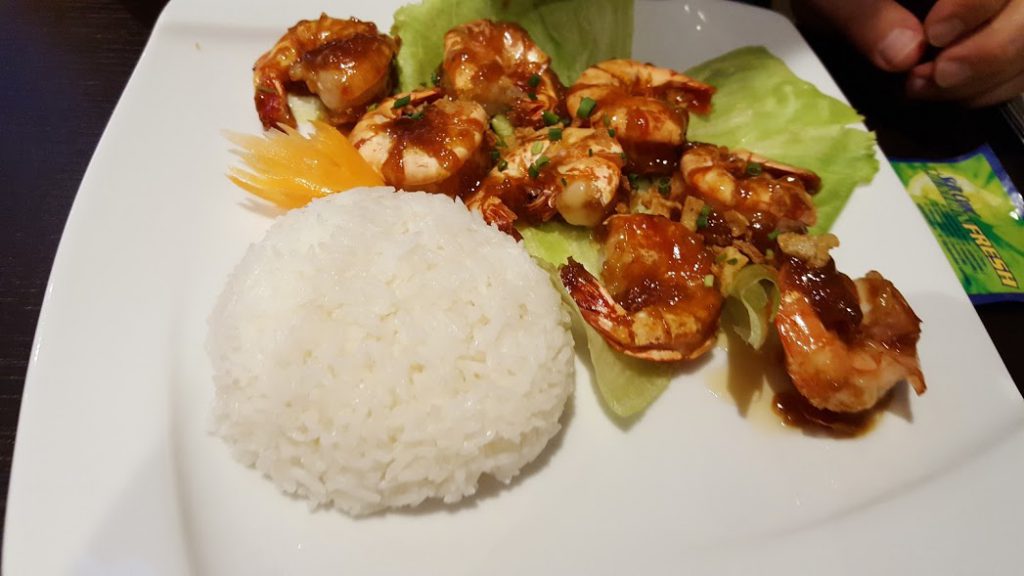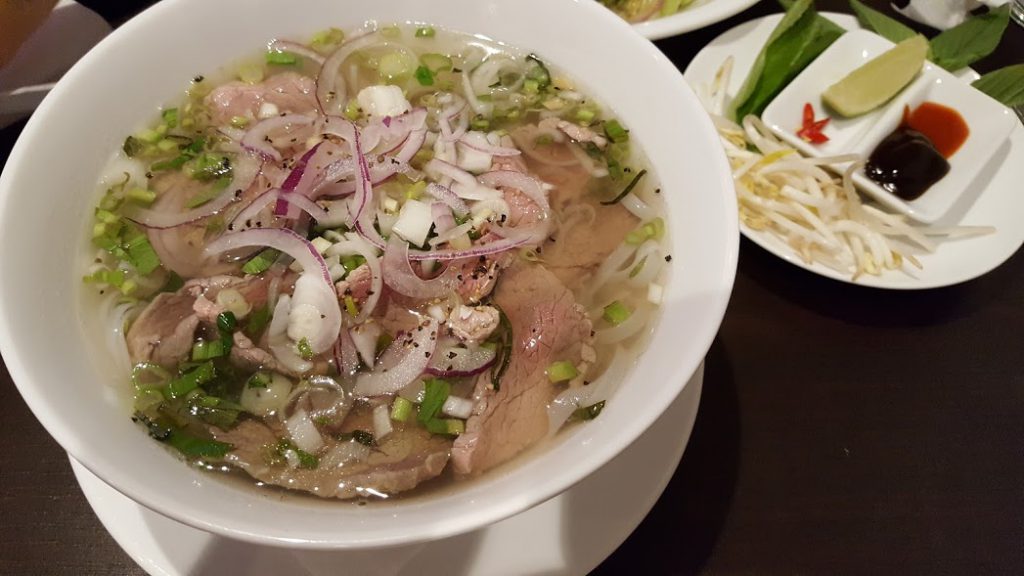 Play, Play, Play – Kindermuseum called "FRida & freD"
Sunday, everything was closed.  Almost.  Luckily, one place where can retain our little one's attention was open. "FRida & freD".  Cost us Euro 14.50 to get in (two adults, kids under 3 is free i believe).  Inside they have two area, one for kids 3-7. The other is 7 plus.  The whole setting was built based on the Mice story! They fiddle all day and have a lot of fun. Kids can join the fun by all kinds of activities. Punch some holes and listen your creation of a music box music. Draw something, play dough, ride the bike to play the movie… It took Zoey some time to get relaxed in the setting and played for a bit. But I think we should help her to be more adventurous since she tended to just play what she was used to, or good at.  In general, great place for kids!  Open almost all year round, apart from a few holidays.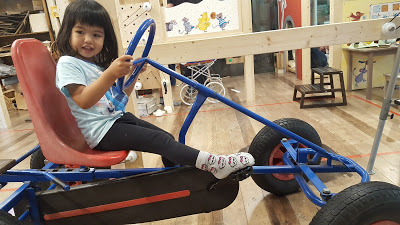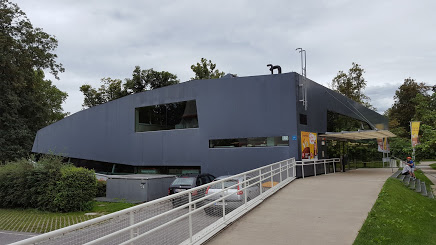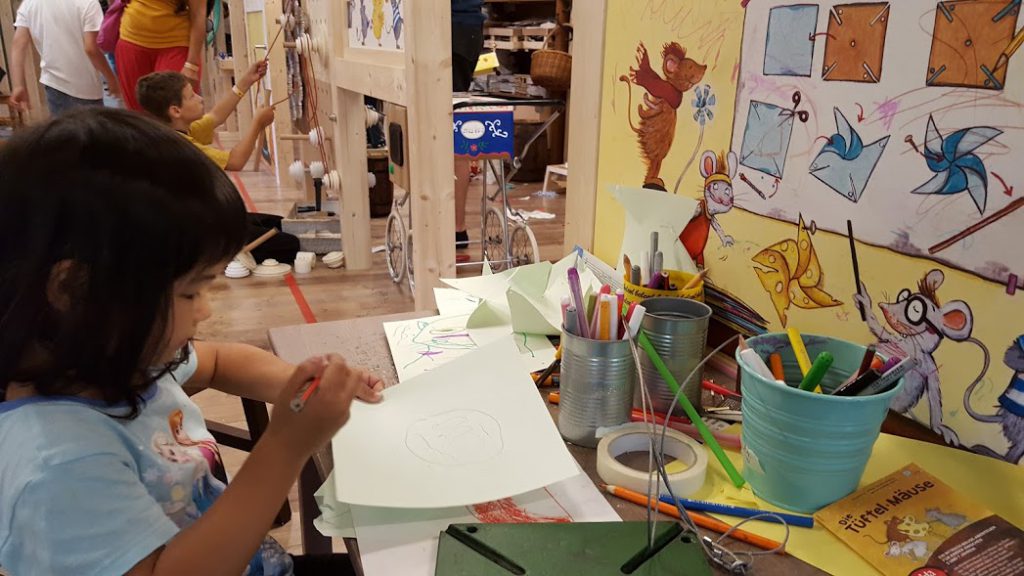 Good bye Graz!  We had great time! I don't think I gave Graz a justification of how great city it is. It's offering much more than I experienced here, of course short 1-night trip can only cover a glimpse of it.  Hopefully we can come back some time again.