Spending time with baby and toddlers in the hotel (see my post on choosing hotels when travel with kids) can be easy for a short time stay or actually it is a resort, where you don't really move that much.  If you plan to stay in one place for several nights or like us, even a couple of months, it will be a wiser choice to rent an apartment.
We started our Trip via using the services provided from AirBnB since 2012 and had been having most positive experiences. If you haven't heard of it, time to check it out. It is a  community marketplace for people to list, discover, and book unique accommodations around the world. People rent out their own place, room or special property for travelers, enjoying very local experience. Of course, there are also other websites or agencies to use, but in this Internet age, I guess booking from online or mobile is the easiest way, at least for me.
Here are top 5 benefits I feel renting apartment when travelling with kids, babies or toddlers.
Benefit No.1 – Save more on cost
Normally the rental apartment is cheaper than hotel at the similar level & the nice ones really offers great feel to be home from home. The cost can differ a lot if you stay for longer period; you can always negotiate a better price if you are staying for longer, which might be difficult or a hassle when dealing with hotels.
Benefit No.2 – You can cook nutritious meals for your kids
Rental apartments normally equipped with at least basic cookwares for you to cook some meals for your kids, which can be more nutritious than food bought from outside. Even it might sound convenient to stay in the hotel, the food option is not absolute baby/toddler friendly sometimes.
Benefit No.3 – Be more flexible with check-in and check-out time
Hotel has specific check-in and check-out time, even you ask for a late check-out, most of the time they only allow 2 hours before you need to pay extra money.  Staying in rental apartment can be more flexible as if there is no urgent next guest checking in, the landlord normally will be very accommodating – you will feel so thankful as your baby can have a good nap without pulling your hair where to find a quiet place.
Benefit No.4 – Gain more local insights and experience
Hotel staffs have very 'commercial' knowledge or information about where to go, what to eat and what to do.  The landlord (if you are lucky) might provide very insightful local knowledge to you for an unforgettable experience. If you choose a right neighborhood, here you go — like winning a lotto, I bet you will brag about the trip for next 10 years or more.
Benefit No.5 – If the landlord had kids too…
Like a year ago we rent this apartment in San Francisco, the landlord has a slightly younger baby but with tons of toys. As we have been moving around, so didn't buy or take too many toys with us, our girl is very happy to play some of the toys here, as well as the pack n' play, will be also very handy.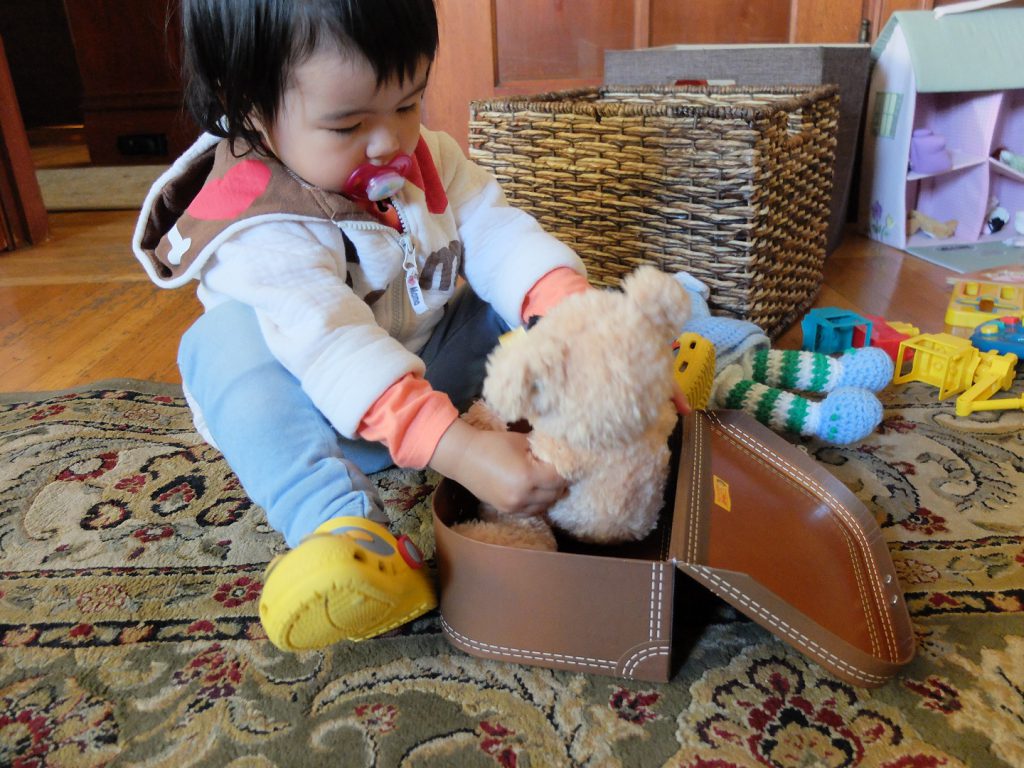 Feel free to email me about any questions you may have, I would be so glad and honored to share my learning after all these trips.
Check out AirBnB to take the first move of renting the apartment! Good luck & most importantly, have FUN!
*I will have more post on experience on using AirBnB later on. Keep an eye on the update! 🙂