We discovered MiniCity Belgrade when some friend mentioned it briefly. I was almost running out of ideas of what to play with my lovely daughter, she seemed a bit bored from time to time too. Voila, here is the great place to go if you are in Belgrade – the heaven for both kids and parents.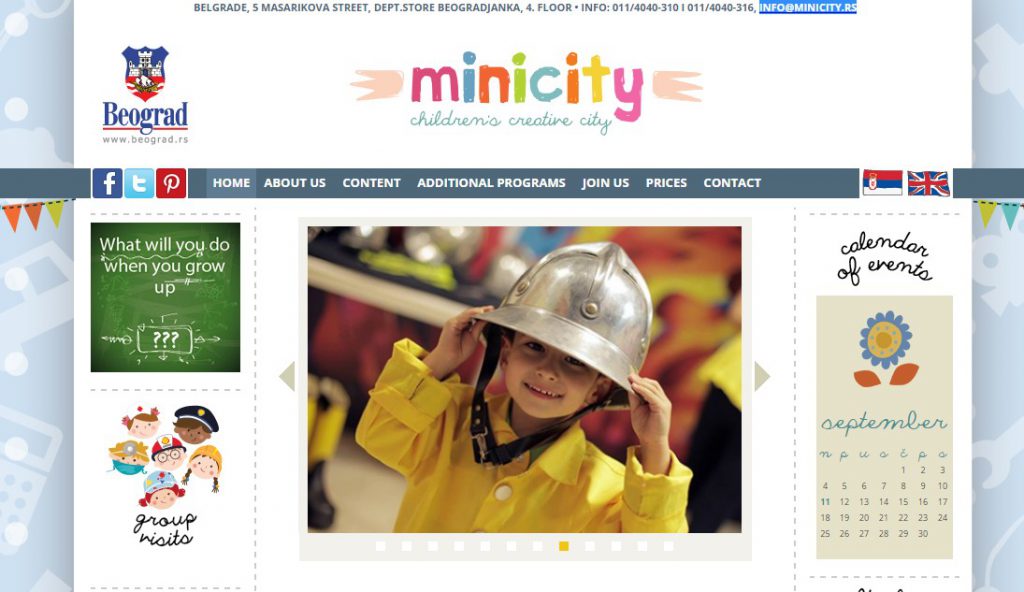 It's a "town" or "city" for kids mainly from 3-12 years old. For babies under 2 years old, there is a baby room, however not my favorite part, as all books there are in Serbian and a lot of toys are broken.  Apart from this, the rest of the design of the Mini City is brilliant. With well-thought and well designed units representing real life scenarios, with appropriate sponsors (for example, the big supermarket chain is behind the grocery store section – kids can play shoppers and cashier).  They also can be firefighters, chefs,dancers, doctors, fashion designers, pilots, construction workers, bakers… With great settings, kids can have a good understanding of what real-life occupation entails, at least at the very level that they can understand and engage with. You can see every kid there was so excited and super attentive, as they were doing something they like and they could learn a lot from interaction with others.
As Zoey is only 16 months old, she could not actively engage on a 'professional' level, however she was quite happy to observe and try different things in her baby way. And, for babies under  2 years old, the entry fee is free.  For parents with bigger kids who can participate activities on their own without close supervision, this is perfect place  — as there is an in-house cafe, you can sit and enjoy drinks and light food, something to read and free wifi as well.
I basically go there once a week for Zoey to spend about 1 to 1.5 hour during my 1.5 month staying in Belgrade. She enjoyed it and all staffs there are friendly and loved Zoey, calling her "cute baby".
So no matter you are visiting Belgrade for short time, or working as expat, if you have kids, do bring them to Mini City, they will love it, and you too.  Oh, you can organize kid's birthday party there as well as many other events.
Info. about Mini City, Belgrade
Address:
4th Floor, Dept. Store "BEOGRAÐANKA"
Belgrade, 5 Masarikova Street, Serbia
Tel:
+381.11.4040-310 / +381.11.4040-316
Working Hours:
Wed.–Sun. 10AM-9PM
Website:
http://www.minicity.rs/en/
INFO@MINICITY.RS
Note: as this was an old post, at the moment, mini city Belgrade is changing locations. Please email contact them directly for more updated info. or follow them on Facebook