Mother's day is just around the corner. Have you prepared the gift for your great mother? Or some special female in your work place? In School? To say "thank you" and celebrate with them.
Since I got to know Seacret brand & tried many of their products, I was deeply deeply impressed and fell head to toe in love with them. So for special occasions, or some friends' birthday, I always want to use Seacret as the gift.  Nonetheless to say Mother's day.
If you are in Australia, you are lucky, as the brand pushed a few Mother's day pack, great products now with even better price, also some with great special mother's day packaging. When you see the pouch or bag, you just want to own them. All of them, read on and you will understand what I mean. Lol
I picked a few gift sets, and from lower price to a bit higher price, coving from bodycare to delicate facial care, for you
Exfoliate + Luxuriate gift set!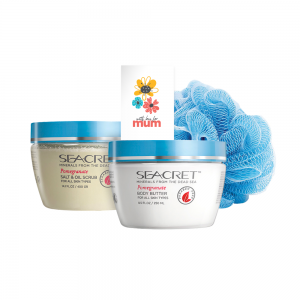 If you love the smell and sensation from the premium SPA salon, you can't miss this one. Seacret luxurious Salt & Oil Pomegranate scrub is second to none when it comes to exfoliating and enveloping mum's skin in moisture. Together with the ultra-rich Body Butter, a soothing, nourishing, and indulgent cream that will provide the ultimate hydrating experience. Packaged together with a Free Loofah in a white organza bag, looks great, feels great too!
Regenerate + Refresh gift set!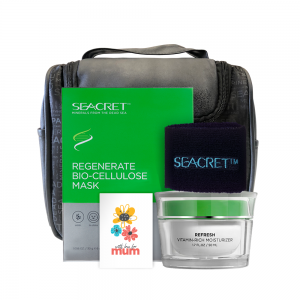 Deadsea minerals have great anti-aging effect, which you can find in many of Seacret products.  This set includes Regenerate Bio-Cellulose Sheet Masks and super popular age-defying Refresh Moisturizer, is a must-have set for mums who have concerns of aging. The ultra-concentrated formula in both products helps to restore the appearance of the skin's natural glow and tone, striking a beautiful balance. You will have a stylish black Seacret toiletries bag with this set.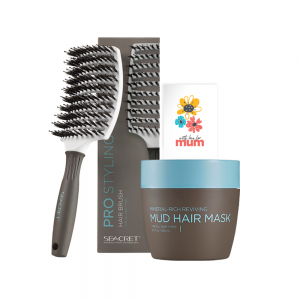 Salon-ready hair from the comfort of your own home…all the mums say YEAH! Our Mineral-Rich Reviving Mud Hair Mask works to revive hair's natural radiance and shine with minerals from Dead Sea mud, Argan Oil, and Vitamin E. Coupled with our Pro Styling Wide Hairbrush to detangle, smooth and style, mum will be the MANE ATTRACTION wherever she goes! Packaged together in a white organza bag perfect for gifting!
I also recommend you can add the shampoo and conditioner as the whole set, as they are really fabulous. Many of my friends, including myself, found that they helped reducing falling hair and even grows new hair. We are all thrilled.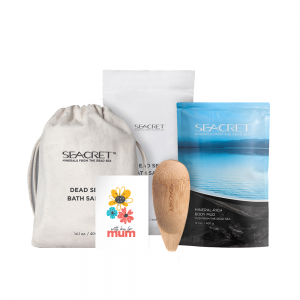 How long you haven't' travelled together with mum? well, the pandemic kinda of put the whole world into pause status.  Furthermore,  I doubt many of us have been to Israel to visit the deadsea with our family and try the magic floating power, or smudge the mud on our bodies. This year, let's bring the Dead Sea to mum's door with the sought-after Dead Sea Bath Salts and Mineral-Rich Body Mud. An indulgent and relaxing experience to rival any day spa treatment…make you and mum proud!
Shield + Supercharge gift set!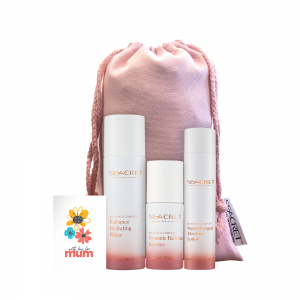 Do you know that the red algae is the only living creature in the dead sea? This newly launched Bio Shield Complex products featuring most amazing red algae and advanced technology, this set is sure to take mum's skin care regimen to the next level!   The next generation Toner, indulgent Essence, and patent-pending Supercharged Lotion, mum sure will get the great skin, ready to face any "challenges" in life! lol. Hope that her only challenge for now is to eat the cakes.  This set also comes with a pink Seacret canvas bag perfect for gifting!
OK, here you go! A few ideas for Mother's Day gift ideas.
You can also go to the website and check out more products, maybe you want to mix and match yourself, or maybe pick a few for yourself along the way.
Be happy, youthful and healthy.